Urbanna Landscaping is proud to call Santa Fe, New Mexico, home. We know that you want a landscape design that will celebrate your home, complement your lifestyle, and support the exceptional vistas of our high desert.
We also understand that choosing the right landscaping company can be overwhelming, so we're happy to answer any questions you might have. 
Whether you have questions about our experience, our collaboration process, design implementation or beyond, we're here to guide you every step of the way. If you don't see your question answered here, don't hesitate to book a consultation with us! 
We look forward to working with you.
How long does a project take from beginning to end?
Planning and installing a landscaping project can be exciting, and many of our clients wonder just how long the process takes. As the leading Santa Fe landscape designer with countless projects under our belt, we've found that the timeline can vary depending on the scope of the project. 
A basic design project can take as little as one to four weeks, while a more extensive project can take up to 90 days. Once the design is complete, installation can take up to a week or as many as four months, depending on the size of the project and your location. We understand that each project is unique, and we're here to help guide you through the process to ensure the best results for your dream outdoor space in a timeline that works for you.
Do you work with clients with second and third homes?
As the premier Santa Fe landscape architect, we know that owning a second or third home in this gorgeous part of the country comes with its own set of advantages, and challenges. Having a private escape to call your own is a luxury, but it can also be difficult to manage multiple landscaped properties with different timelines and budgets. That's why we're proud to work with Santa Fe vacation and second homeowners, and help them turn their vision for their Santa Fe oasis into a reality. 
We have set up structures to support your needs, from portals that show the status of your home improvement project to a payment portal on our website where you can make payments free of charge. We are happy to accommodate your requirements and  create something truly special.
Where do you get your plants?
Urbanna Landscaping plants only top-quality products from established nurseries in Albuquerque and Santa Fe, including Arbor Valley, Plants of the Southwest, and Little Valley Wholesale Nursery. We also partner with leading nurseries across the country, from Denver and beyond, to make sure we're bringing the very best landscaping materials and supplies to every client. Our plants are sourced with utmost care, so whether it's desert-inspired or oasis-influenced, we're committed to excellence in every aspect of our work.
Do you design and build landscapes?
Yes! We leave nothing to chance and prefer to implement approved designs to assure that the quality and vision approved on the drawing board makes its way to the perfect landscape experience. 
We pride ourselves on our team and have developed a deep bank of landscaping resources through which we can implement landscape designs to the highest standards in Santa Fe and beyond.
Do you have your own landscaping crew?
Yes! Our Santa Fe landscape design team includes a crew of up to four professional landscape installers, plus a duo of expert masons who've provided exceptional stonework for more than 15 years. We believe in quality over quantity, which is why we take our time with each project, giving it the attention it deserves. Our clients can trust that they are receiving the best service, and we are confident that with our team of experts, we can turn their vision into a reality.
Do you show up on time?
At Urbanna Landscaping, the client comes first—that means we show up when we say we will. We believe every client deserves consistency and honesty, with no unwanted surprises. Our entire crew values punctuality, and we've enforced a three-strikes policy about showing up to work on time. It's simply how we work, whether we're designing in the office or installing at your site.
Are your prices competitive?
While we've been the go-to landscape designers in Santa Fe for several years, we pride ourselves on offering competitive prices while delivering extraordinary results. Our exceptional landscaping is the result of highly customized planning, which is why we offer landscape consultations that start at $165/hour with a 5-hour minimum ($825). We also offer a Standard Landscape Design Package starting at $2,800. For the quality of our services and our years of expertise, our fees are highly competitive for our market.
What can I expect during the installation process?
At Urbanna Landscaping, we understand that landscape installation is not a trivial decision, and you may be worried about your property being disrupted during the process. You can rest assured that our crew takes great care to keep your property in great condition. We'll be working hard, and doing everything possible to minimize our impact. 
Plus, we don't leave any mess behind when we're finished. By the time we're done, your grounds will look better than before we arrived—and you'll finally get to see your vision in its true form! So don't worry and leave the hard work to us. We promise to make the landscape installation process as respectful, easy and stress-free as possible.
What can I expect during the design process?
Visualize your property's landscape plans in HD quality from above. With our sophisticated team of drafters, we can deliver a comprehensive set of architectural designs, all in a top-view CAD format. This allows us to fully illustrate our plan, bridging strategy and communication, and bringing your vision to life. 
Seeing your installation beforehand allows you to make any necessary adjustments from both a design and cost point-of-view. And the best part? A detailed rendering illustration of your landscape plan gives you an even clearer understanding of what you can expect. Trust us to deliver a stunning and practical landscape design you'll love.
Who makes up your landscaping crew?
We love our team! Our installation crew consists of experienced laborers and craftspeople, all willing to work hard to achieve the results you want.  Urbanna's team takes deep personal pride in their work and their dedication to executing the vision – from simple to complex. Planting, irrigation, stonework and masonry, carpentry and concrete, waterworks and walkways, trellises and statuaries – our team is committed, skilled and professional.
Landscaping and scheduling
We respect  your time and, therefore, we incorporate timelines into our designs and discuss with our clients before starting any project. We endeavor to accommodate our clients' schedules and needs, even given the seasonal nature of our work, and the influence of sometimes unpredictable weather patterns. We show up on the site at the time we promise and often hit our deadlines either on time or ahead of schedule. Our company policy and philosophy are only to hire people who value punctuality; that is 50% of the job. We have a three-strikes policy about showing up late to work, and require that all who work on our team be professional, accountable, and respectful of everyone's time.
Our Urbanna Landscaping team is made up of both design and installation professionals. Together, we infuse each commission with creativity, passion, and excellence. 
Our goal is to create landscapes that connect people to nature.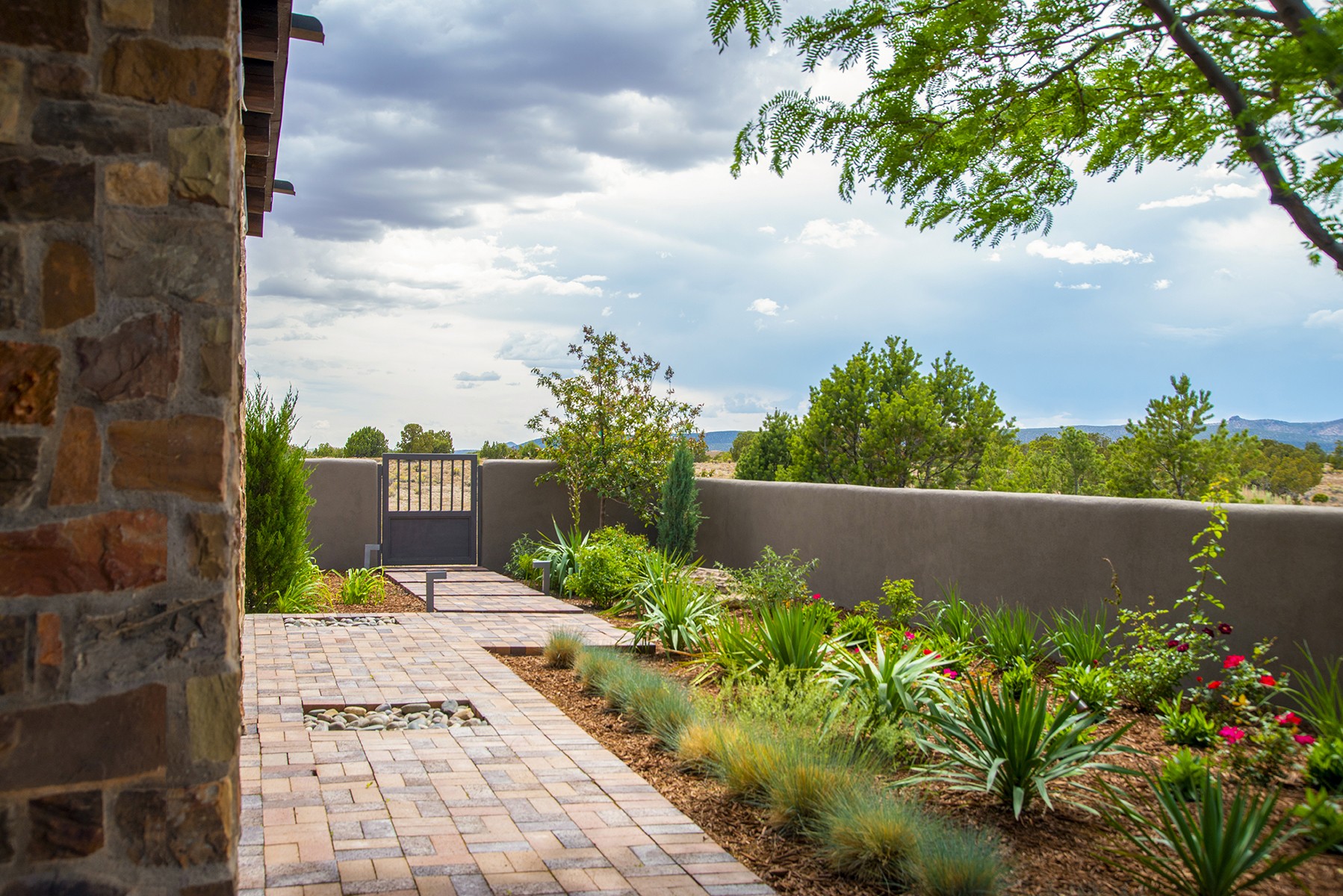 Based in Santa Fe, New Mexico
Santa Fe, New Mexico, is Urbanna's home base. We love the colors and textures of our desert home and enjoy working with homeowners to help them see the beauty potential in their gardens. We have also worked with discerning clientele in San Diego, California; Savannah, Georgia; and Key West, Florida, but our focus is clients in the Santa Fe area. 
Book a consultation, make an inquiry on collaborating, or otherwise engage our services by clicking on the button below. 
Each collaboration we embark on is unique—we never create the same landscape twice.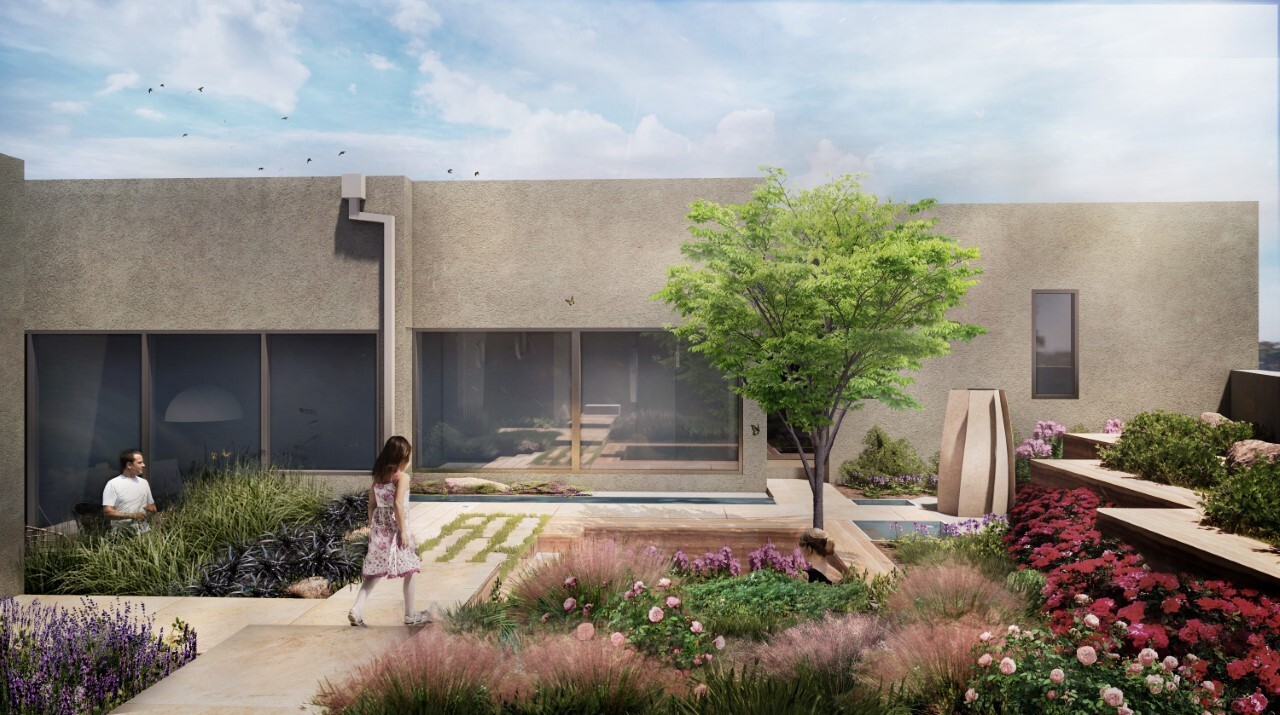 We Look Forward
to Meeting You
Book a complimentary 30-minute consultation today with one of our designers to craft the vision for your outdoor living, learn about what plants will work for your garden, and get style input for your new landscaping.