Full-Service Landscape Design & Installation
At Urbanna, our philosophy is to create landscapes that connect people to nature. In this endeavor, we work with a plan and commitment. Unique, stylized, and one-of-a-kind, our landscapes begin with your vision, which we then translate into a design. At Urbanna, Our philosophy connects design and installation. Both phases bring your vision to life in the landscape.  
Installing and Designing a New Landscape
We start with inspiration and possibility and end with delight. We commit to completing your project on time.
Here is our process for optimal success for as we install a thriving landscape you will love.  
Vision
We perform an intake of your vision and preferred plants, trees, shrubs, lighting design, water features, fireplaces, patios, and walkways through a series of meetings.

Design
We spend time drawing, sketching, investigating, and studying to create your custom design, from which we produce an architectural site plan, and landscape plan, lighting, and other plans may also be part of the package– see an example below or click here for a PDF.

Build
We oversee the installation to bring your new landscape design to life. Our landscape design projects include a minimum 90-day warranty on vegetation, a minimum one-year warranty on irrigation, and a two-year warranty on hardscape.
Collaboration
Collaboration is a part of the relationship, and continually collaborating is essential. We expect our clients to entrust us with what they have contracted us to do and be treated with care, respect, and honor. We feel this is the basis for our business relationship and our construction and design work together. 
DIY
For the Do-It-Yourself-er, we can design and plan and do all the supporting paperwork, permitting, HOA approvals, and submittals. Then, while you're on your site planting, you are free to consult with us. We also can manage the planting and installation of hardscapes throughout your process.
Our Design & Build Process
We will deliver a set of detailed architectural designs in a top view CAD format that displays the vision we've been developing with you and for your property. Our team of sophisticated drafters provides visual representations in both CAD and 3d modalities to give you a sense of the final landscape. This gives you the view from above of all of your installation beforehand, and you can make any needed adjustments from there both from a design and a cost point-of-view. See an example plan here (link to PDF) 
We also offer custom detailed rendering illustrations of your landscape plan for an additional cost starting at $2750.
What to Expect in the Installation Process
Your property will be a bit messy during the process—but we will clean up everything when completed
There will be heavy construction and foot traffic
Lots of debris during the installation is typical— but we promise it will be worth it
We will communicate with you about timeline changes immediately, and we are here to answer any questions and provide answers and solutions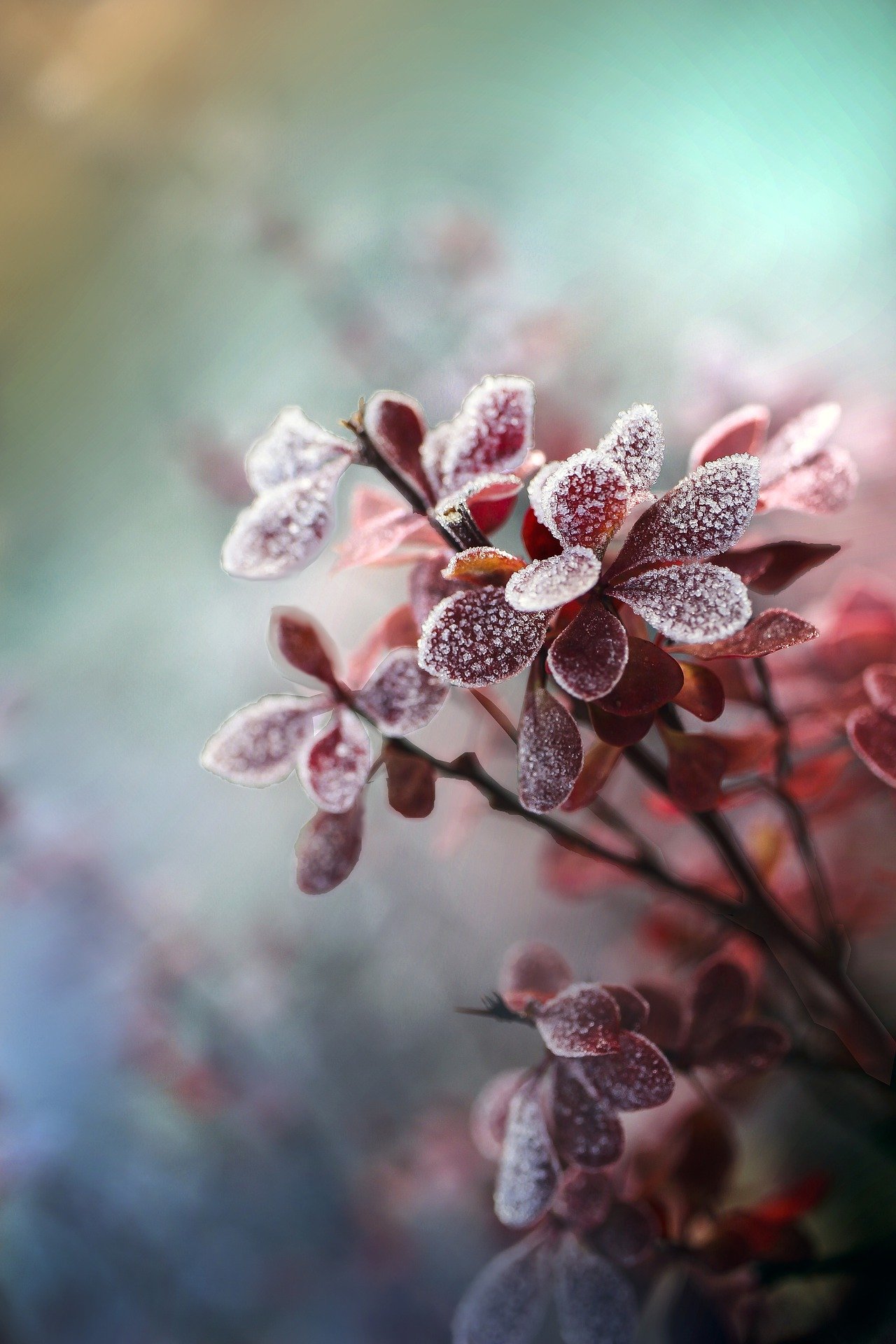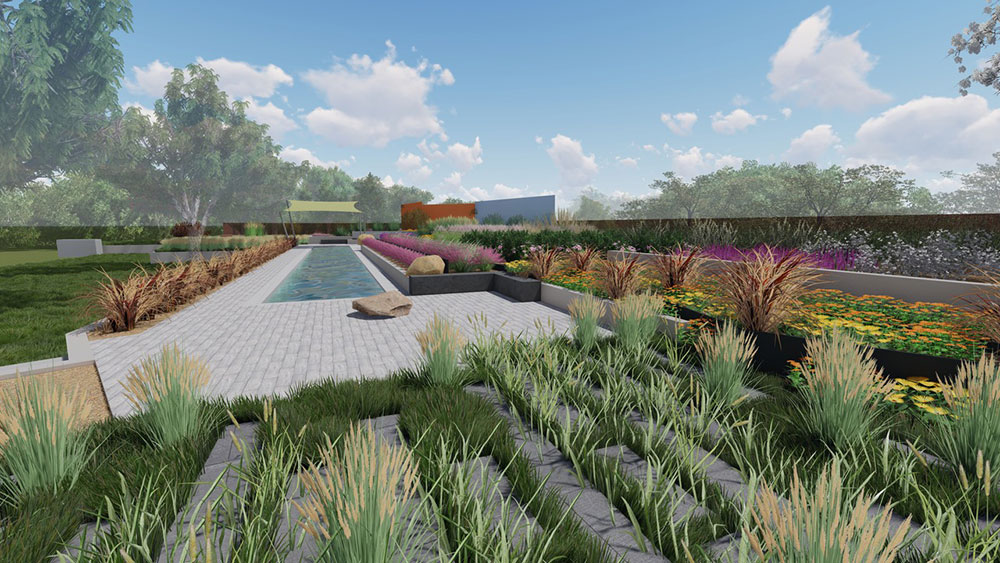 We also offer custom detailed rendering illustrations of your landscape plan for an additional cost starting at $2750.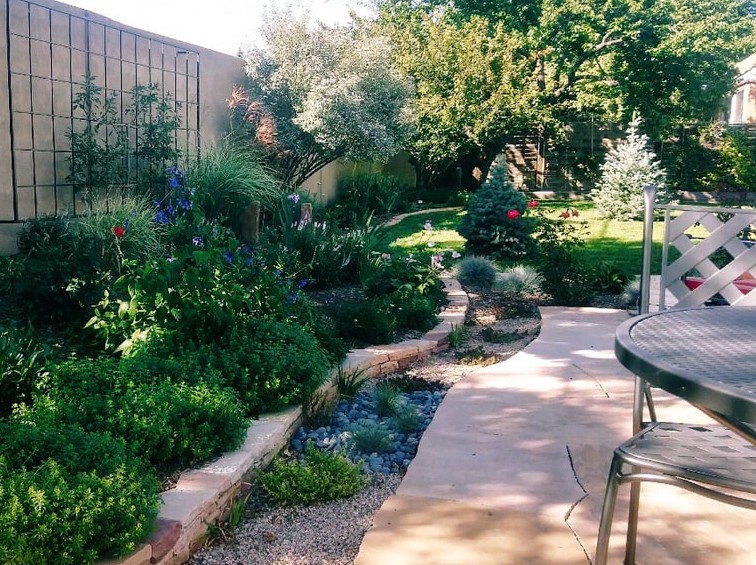 Our Portfolio of Landscape Designs
"What I really love about what we do is that we get to go right into people's homes and place beauty quite literally right at their feet."

– Owner, Tara Josub
Frequently Asked Questions
We are based in Santa Fe, New Mexico but have also handled several landscape design projects in other states.
We are happy to answer any questions you might have about our process, how we'll work together, and our experience. If a specific question is not answered here, please book a consultation. We look forward to getting to know you.
Do you handle clients with second and third homes?
Yes.  Many of our clients are not here full time or travel extensively. Their home here in Santa Fe is not their first. We have set up structures to support their lifestyle, from portals that show the status of their projects to a payment portal on our website where you can make payments free of charge.
How long does a project take from beginning to end?
A project can take up to a week or 4 months to install. A design project minimally takes four weeks to 90 days.
Do you show up on time?
We show up on the site at the time we promise and deliver our timeline either on time or ahead of schedule. Our company policy and philosophy are only to hire people who value punctuality. That is 50% of the job. We have a three-strikes policy about showing up late to work. This is also how we operate with our projects. 
Are your prices competitive?
Our landscape consultations start at $165/hour with a 5-hour minimum ($825). Our Standard Landscape Design Package starts at $2,800. We find our fees competitive in the market for the quality of our expertise. We provide exceptional value and top-notch customer service. 
Do you have a crew?
Yes, our installation crew consists of 3-4 people and a duo of masons who have provided our stonework for 15 years.
Where do you get your plants?
We use a variety of nurseries in Albuquerque, Denver and Santa Fe, including Arbor Valley, Plants of the Southwest, and Little Valley Wholesale Nursery.
We Look Forward
to Meeting You
Book a consultation today to craft the vision for your outdoor living, learn about what plants will work for your garden, and get your project into our schedule.